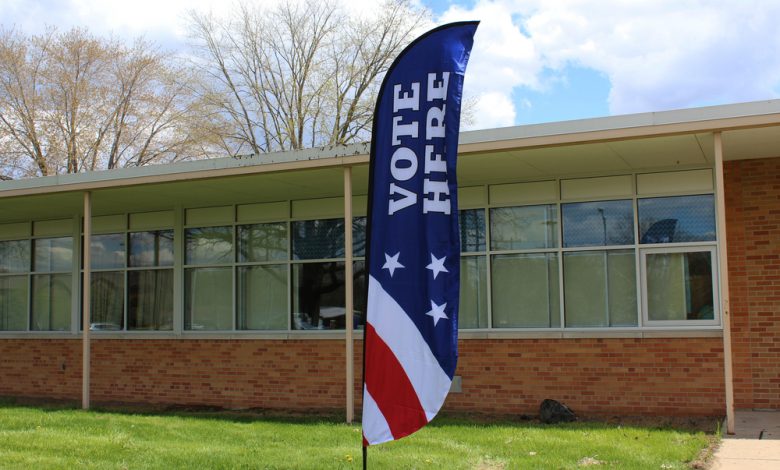 Why are so many politicians including RINOS fearing Labor Day? Because usually, by early September schools are reopened.
Why else are they worried? Because September leads to the home stretch of campaigning— and the teacher's unions are watching every word and every action of each candidate. Their endorsements are followed up with major donations, volunteers and votes.
Need proof? Go research the federal filings of candidates and politicians and see how many individuals, businesses and actual unions donate to primaries and then elected officials. It is public information, however, few people take the time to find this out.
Ask the over 1.6 million union members who pay dues and see money taken out of every paycheck for go to union endorsed candidates, even if they don't want their personal income going to these politicians.
A Failing NYC School
On February 26, 2011, I filed a lawsuit against the New York City Board of Education. I witnessed corruption from almost every area of administration abusing power and deliberately using our school for a "home" of highly unethical practices.
The school involved is in a good area of Queens, New York. Homes average around $570,000 and the neighborhood is conveniently located on the Nassau County border. Most of the students are black, from Jamaican, Haitian and American minority families. Some were foster family homes, others had grandparents as their official, legal guardians. But in the decade of 2000-2010 things changed.
When I started teaching in 2001, the school, PS 156, had a decent rating with a nice community feeling. In 2003, I was one of four fourth grade teachers who was able to have students achieve such high state test scores, I received a plaque as appreciation and acknowledgement for my educational skills. For this achievement, the school's administration received $35,000, although I cannot confirm how that money was spent.
The years that passed saw a hidden gun episode, a principal charged and later accepting guilt with a plea bargain for stealing money from a government agency, and lots of safety and educational policies that were compromised. Parents in the neighborhood complained, and many pulled their children out of the building.
A non-for-profit youth organization tied to State Senator Shirley Huntley was housed on the school premises. Year-by-year the student body decreased and more students were not living locally. Our school reviews were falling and more complaints were made to the Board of Education from parents and neighbors.
By 2011, this was not a safe and productive learning environment. Everyone knew it. The superintendent, the Mayor's office in charge of the school system, the school safety division, and the teachers and supervisor unions.
On March 1, 2011, the New York Post published a story about my lawsuit. It was brief. The article mentioned that among my many accusations, one tha involved a principal slapping a student.
As a whistle-blower, I was promised no retaliation. It was confirmed in an email to me by the NYCDOE by a top advisor through the Mayor's offices in charge of education.
The very first act of retaliation was a letter dated March 11th, 2011. The letter was addressed to the superintendent, Lenon Murray. The letter was cc'd to four local politicians.
Let's look further at the four politicians named on the letter:
In 2013, Shirley Huntley appeared in federal court in Brooklyn and pleaded guilty to one count of conspiracy to commit mail fraud for embezzling $87,000 in state grant funding from the Parent Information Network, a Queens non-profit organization. Huntley later pleaded guilty in state court to a charge of falsifying evidence. She was sentenced to a year and a day in prison on the federal charge.
In 2015, Malcolm Smith was sentenced to seven years in prison after being convicted of trying to bribe his way onto the Republican ballot in the 2013 race for New York City mayor. He was convicted that February of wire fraud, bribery and extortion.
In 2015, William Scarborough was sentenced to 13 months in prison after he admitted submitting at least $40,000 in false expense vouchers for days he did not actually travel to Albany. He also pleaded guilty, resigned and was ordered to pay $54,355 in federal penalties and forfeit the same amount to the state.
In 2016, it was reported that Federal Bureau of Investigation probed James Sanders' use of slush funds and alleged solicitation of a $250,000 kickback from a non-profit. To date, Sanders was never charged with any wrongdoing. In 2011, he cried foul when he was a New York City Councilman and believes his skin color had something to do with him not being able to hail a cab in SoHo.
One of my complaints in my lawsuit was the fact that a nonprofit organization located on the PS156 school premises had questionable practices. In 2013, it's leader Van Holmes was arrested, found guilty and went to jail for pocketing over $85,000 and submitting false paperwork.
Coincidentally, Sen. James Sanders (D-Jamaica), Leroy Comrie (D-St. Albans), Mark Weprin (D-Oakland Gardens) and Ruben Wills (D-Jamaica), all allocated money to Holmes 'nonprofit in the past several years. Wills has a history of multiple arrests and on July 20, 2017 a jury found Wills guilty on five of the six counts in his last corruption trial. He has appealed his conviction and has not yet been sentenced.
All these politicians are tied to failing schools, union leadership and endorsements. Is it any coincidence that all are Democrats that are against Trump?
And Superintendent, Lenon Murray, friend and ally to all four politicians was fired in 2017, amid sexual abuse allegations.
As for my lawsuit, as a result of bias, liberal court judges have allowed my case to be the longest case in New York Supreme Court history to date that will not compel the defendants to comply with standard discovery demands, including witness testimony from those documented on this letter: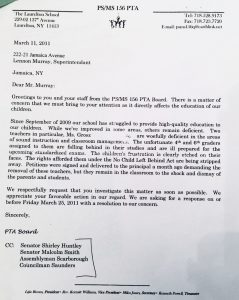 I spoke up a decade ago for what is right and I hope President Trump uses this time to allow vouchers for parents who seek quality education without strings attached to teacher's unions.