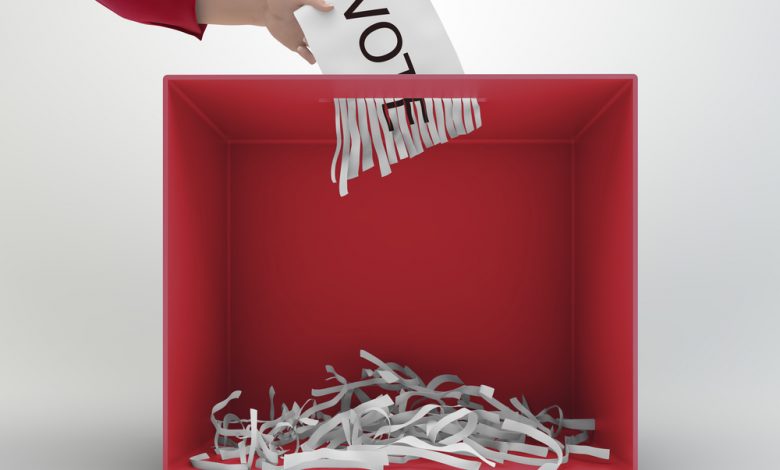 We keep hearing that voting in person supersedes any mail in vote. We keep hearing about voter fraud involving absentee ballots and mail in votes, especially this year, because of coronavirus. We keep hearing the blame game from both major parties.
You would think this was a new pandemic started in 2020, just like coronavirus or Hurricane Laura. Voter Fraud is nothing new or does not occur only through envelopes mailed via the United States Postal Service.
Wow, Democrats and Republicans CAN agree. Regardless of the results on November 3rd, the other side will contest the results. Regardless of the results, not just in the presidential elections, but in congressional and senate seats, you shouldn't be surprised by demands for recounts, the pointing of fingers and articles in the media claiming that someone is paying foul.
It's happening already in a local election for a village mayor on Long Island.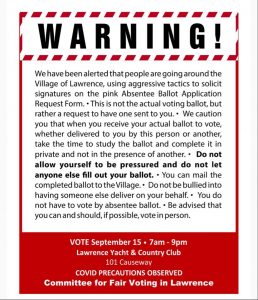 Local newspapers published a warning to voters about a "potential scheme" of "aggressive tactics" to sway voters. People will try to fill out other voters forms. Campaign advisors involved in this campaign are also tied to elected officials in local and statewide races. Thus, the snowball effect. Some of those involved in this "twisting of your arm" get away with it because of their "ties" to local and state GOP and/or Democratic leadership. I previously wrote about Democratic questioning of a local race in the Bronx for an assembly seat.
Councilman Ruben Diaz also called out the Bronx Board of Elections when he wrote in an email, "It is extremely important that you be reminded how often we have heard from those people who pound their chests, and declare that the will of the people, the voter, must be respected at all times, and how every vote must be counted. It now appears that this sentiment only applies to some, when it's convenient for the powers that be."
The Powers That Be in the Election Process
Do you know who works at your local board of elections? While it seems that the headquarters are "fair and balanced," are they really? Can just anyone apply for a job and get a position? According to a 2018 article in The Island Now, the answer is NO.
Appointed fallen political players in jobs at the Board of Elections and receiving $100,000 isn't uncommon.
"The Board of Elections is the only agency intentionally and legally set up to be a patronage organization –whether we like it or not," according to Lawrence Levy, executive dean of the National Center for Suburban Studies at Hofstra University.
Voters should place the blame solely on local board of elections. State GOP and Democratic leadership allow this practice, thus silence is acceptance.
Don't Blame President Trump for Voting Irregularities
Donald Trump is trying to call out voter fraud. He is doing a good job. But, like Ruben Diaz, he is one person. He doesn't know about the intimidating tactics used by the Nassau GOP. He doesn't know that headlines in local newspapers are implying voter intimidation by Trump supporters.
What can we, the average citizen do to Combat Voter Fraud?
First, admit there are problems with voting today. Go to your local Board of Elections and find out who is on staff and who is in charge. Flood local media outlets and people at the Board of Elections with inquiries regarding potential voter fraud. Set up peaceful protests demanding accountability and transparency at the Board of Elections. Invite press. Board of Elections scandals are a nonpartisan issue.
Let's learn from Lawrence's Mayoral race. Nobody wins when scandals and voter scams take place. Ultimately, voters are turned off.
Need proof, all five pro-Trump congressional candidates in New York State that were not endorsed and lost on primary day amid questioning of voter fraud tied to Board of Elections decisions seem to be the long term winners. Of all of the endorsed GOP candidates, many are behind in polls and fundraising against their Democratic counterparts. Peter King's seat may flip into a progressive seat. In Westchester, there is no Republican candidate running against the socialist for the seat being vacated by Nita Lowry. Even usually safe seats like Chris Collins's old seat and GOP superstars Elise Stefanik and Lee Zeldin are fighting tough battles towards November.
So, who are the Board of Elections really helping? Whose voices are really being heard? Where is the real voter fraud? Is it any wonder that potential GOP New York State donors reach over the aisle and support Democrats in local races, despite voting for Trump?
President Trump needs our support more than ever. Voter fraud is real and must be stopped now! If you feel intimidated or mislead by your local voting places or paid staff, contact us here and we will investigate it for you. No one should feel afraid to vote, it's something others would die for in other places around the world.