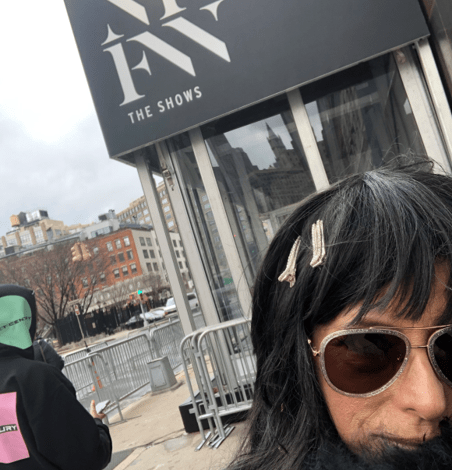 New York Fashion Week Autumn/Winter 2020 fashion week has made headlines for what and who was not here. Tom Ford showed in Los Angeles, and many of his loyal celebrity followers and models stayed on the west coast with him.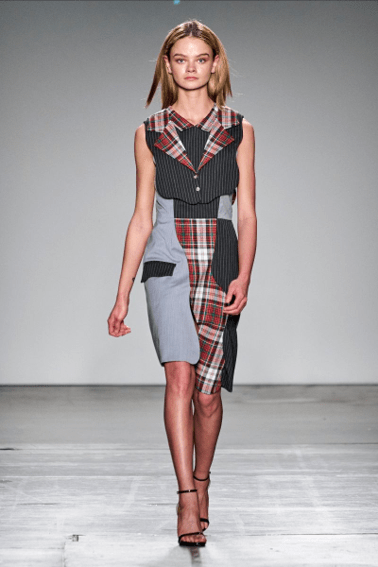 Jeremy Scott canceled his show. Legends like Ralph Lauren also didn't host lavishly staged events.
The good news is that lesser-known brands were able to spotlight original their fashions.
New York Fashion Week is like no other as more designers, models, photographers and press attend from every part of the world. Everybody wants a piece of "The Big Apple."
An exciting new collection by New York based designer VIVIENNE HU plays on old Americana soul and neutrals hues of the canyons.
The Fall/Winter 2020 collection debuted at New York Fashion week, Spring Studios. The women's ready-to-wear collection featured forty looks that could be described as cowboy chic essentials, dreamy fighter pilot leather-wear and smartly tailored down jackets.
"I was inspired by the beauty and sheer magnitude of the great American Southwest. I think it was Antelope Canyon that first stole my breath away". Said Hu. "In this collection, I hope to capture the nostalgia of witnessing such natural grandeur while playing on the lore of the west".
My very favorites were the sustainable fur jackets and shimmery dresses. Hu's show featured several trends many other designers shared in their collections; earth tones, skin boots, soft coats and jackets you want to use as blankets by a cozy fire and pants.
Not only did the collection include footwear and accessories, but it also involved collaborations with Sustainable Fur producer, Saga Furs and Luxury Danish Jewelry line, Shamballa Jewels. The final runway look boasted an impressive price tag of $200,000 with its diamond and gold embellished gown.
The Vivienne Hu collection is crafted in the finest Italian fabrics and produced in it's home of state, New York.
Many collections were featured in a single show.
Oxford Fashion Studio was an example of a presentation of 10 designers at Pier 59 Studios. The collections ranged from traditional women's wear and gender neutral apparel to jewelry and accessories, and a red-carpet ready plus size collection, offering truly something for everyone and every occasion.
The goal for the fashion group is to highlight independent fashion designers from all over the world, giving them a platform to showcase their work. Oxford Fashion Studio has worked with nearly 700 designers, from over 70 different countries, over the past 10 years.
Project Runway Junior alumni and Los Angeles designer, Matt Sarafa, brought down the house down with an explosion of rhinestones, furs, and mesh in an all black collection that was anything but boring.
The India-based, ready to wear label, Manishii, debuted their upcoming collection "Pre Occupied." The collection was interwoven in versatility from gorgeous Indian handwoven embroidered fabrics to vegan leather puffers using mixes of tulles, silks in hues of black, off-white, canary yellow and silver.
San Diego jewelry label, NadinebyNadia presented her edgy collection of baubles inspired by New York City's avant garde days in the 70s and 80s. Designer Nadia's hallmark lies in her intricate designs using spikes, titanium, and leather. Pieces graced the runway in genuine leather with spikes, studded accents and leather fringe. Showstoppers included geometric cuff bracelets, distinct hair wraps, and innovative necklaces.
The collection from Christy & You was titled "Superpower" encompassed edgy and confident fashion to everyday women's wear pieces. The designer drew inspiration from common wool suits, breathing life back into them with a deconstructed look.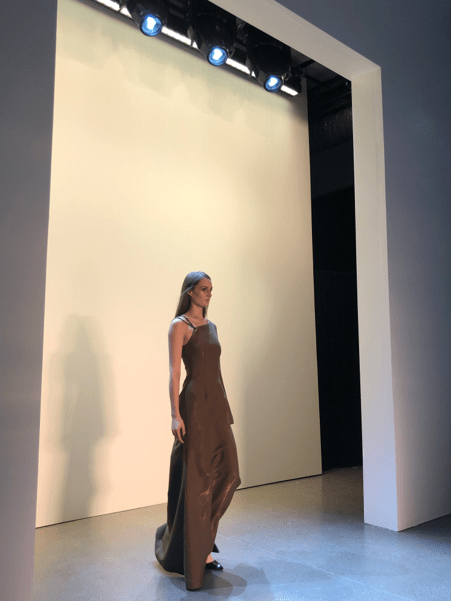 As New York Fashion Week officially runs through February 13th with many off site and post show gatherings running until the end of the month, there will be a lot of fashion forthcoming in future articles.