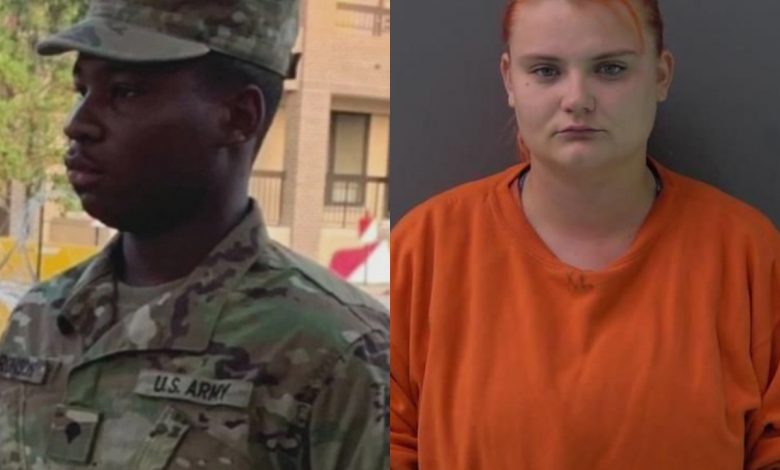 Fort Hood officials identified Spc. Aaron David Robinson of Illinois, who ran away from his post Tuesday evening following the discovery of human remains near the Leon River in Bell County. Robinson later shot himself and died Wednesday after being found and confronted by Killeen police. 
Potential Clarity on Guillen's Case
The other suspect in question is Cecily Anne Aguilar – a 22-year-old Killeen resident identified by the US Department of Justice. Aguilar is believed to be an accomplice in the murder of missing soldier Vanessa Guillen. 
A criminal complaint was filed against Aguilar by federal authorities on Thursday, charging her with one count of conspiracy to tamper with evidence. Per the complaint, Robinson admitted to Aguilar that he murdered Guillen by hitting her in the head with a hammer on April 22. 
Robinson then told Aguilar of the entire crime, saying he moved Guillen's body off of Fort Hood to a remote site in Bell County, where he and Aguilar allegedly mutilated and disposed of Guillen's body, federal authorities said. 
Bell County Jail records also show that Aguilar was charged with tampering or fabricating physical evidence with the intent to impair a human corpse – a second-degree felony. Aguilar is currently being held without bail, as she faces up to 20 years in prison and a maximum $250,000 fine. 
Natalie Khawam – the Guillen family's attorney, said that Robinson hid Guillen's body in a Pelican case before dumping her near the river, after dismembering her "with a machete." While the investigation is still ongoing, Khawam said that she was told that Robinson and Aguilar were having an affair and the soldier called her to confess of the murder. The remains are yet to be identified as those of Vanessa Guillen.