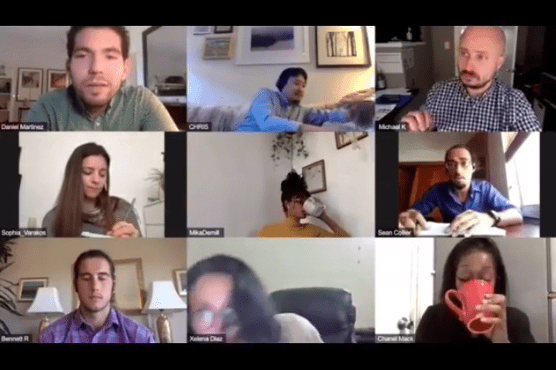 More people working from home and using conference apps like Zoom means there are more and more stories of happy little accidents. One of the latest mistakes could be the mother of them all. Some poor guy was actually caught masturbating on Zoom by his colleagues, with the video going viral in an instant. 
Video Conference Fails Just Keep Coming
The video in question shows people discussing important business matters – consumer spending in particular – when one of the men in the call, Daniel Martinez, gets lost in a world of his own. He moves to turn the camera off but doesn't realize it's still on. Everyone can still see exactly what he's doing. 
Daniel then gets up and grabs some tissues and a bottle of lubricant. At this point, his poor colleagues have an idea as to what might be coming up. Everyone is visibly shocked and tries to stop him, but he can't hear them. As one commenter put it, "Daniel can't hear you guys again, he's in heaven."
There are a surprising amount of stories of this kind of thing happening.  Another incident saw a woman going to the bathroom during a video call with her webcam still streaming. Just last month, another poor man ended up broadcasting naked during a video call. At least ten people saw everything the man had to offer, including the Brazilian president Jair Bolsonaro.
The incident happened during a virtual meeting organized by Paulo Skaf, the president of the Federation of Industries of the State of Sao Paulo. At least that guy can brag that the president of Brazil has seen him naked.