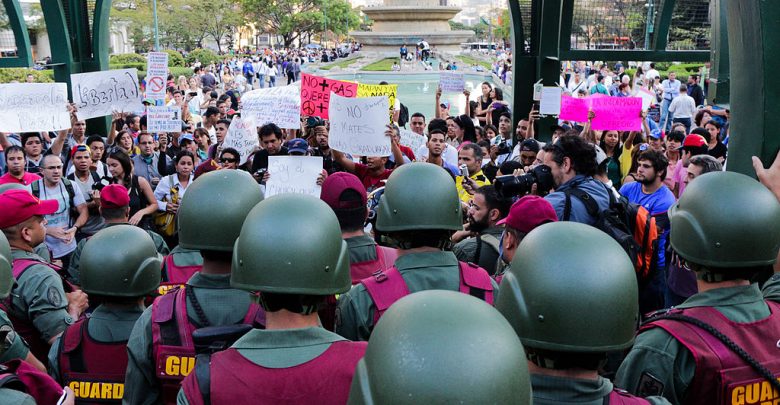 President Donald Trump is known for his stance on immigration – he made building a wall a key part of his campaign after all – but he is reportedly considering offering protection to one group of immigrants; Venezuelans. Venezuelans are fleeing their country and heading to the United States to escape the crisis brought on by President Nicolás Maduro and his administration.
Leaders in Florida have urged the president not to deport Venezuelan immigrants who entered the US, arguing that helping Venezuelans fleeing Maduro's regime could help him secure votes from swing states in the next election. 
Florida is a crucial battleground every election. It contains a great many Venezuelan-Americans and Cuban-Americans who are sympathetic to the plight of their Venezuelan cousins. Winning – or losing – Florida could be what wins – or loses – Trump the 2020 election. 
Politico has a report on the story, saying that Trump officials are considering the idea of allowing Venezuelans to legally live and work in the US through one of the two programs that exist to protect immigrants from countries that have been hit by war and natural disasters. As one source told Politico; "You can't win if you're a Republican without Florida." 
While Venezuela is not technically experiencing either of those things, it is going through a humanitarian crisis caused by a devastating economy caused by Maduro's socialist policies and human rights abuse. 
This renewed push for protection for Venezuelan immigrants comes after a bill that would have protected them for 18 months failed to pass. 
Over four million Venezuela citizens have fled the country, which is embroiled by a humanitarian and economic crisis, according to figures from the United Nations. 
More than 50 nations around the world, including the United States and Australia, have recognized opposition leader Juan Guaido as the de facto president of the country. Even so, current president Maduro refuses to back down. 
Venezuelan officials say that they have evidence of paramilitary camps operating in neighboring Colombia, where they say groups are plotting attacks to undermine them. 
Venezuelan Communications Minister Jorge Rodriguez made a public appearance on state television on Saturday to accuse Colombian president Ivan Duque of failing to stop the plots. 
The accusation comes as tensions rise between the two South American nations. A group of left-leaning guerrillas announced that they would take up arms in Colombia and Mr. Duque has accused the Venezuelan government of holding guerillas from Colombia. 
A spokesman for Mr. Maduro, Mr. Rodriguez, showed satellite images and coordinates of what he called three paramilitary training camps along the Colombian border. Rodriguez claimed the country had also thwarted terrorist plots to detonate explosions aimed at two special police units and the Palace of Justice in the Venezuelan city of Caracas.